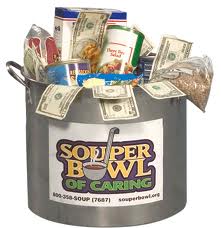 In 1990, a Super Bowl Sunday prayer inspired a group of young people to
do something more than celebrate a football game.
They created the Souper Bowl of Caring, and have mobilized youth across
the country to raise more than $90 million for people in need.
Please drop $2 (or more) in a soup pot on Sunday, February 3rd.
Our collection will help support the BackPack Pals ministry.