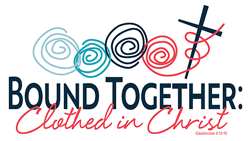 This summer, 15 youth and 4 adults from Pleasant Valley will be attending National Youth Conference in Fort Collins, CO,
July 21-26
. They will spend the week with other Church of the Brethren youth from all over the U.S. and all around the world, gathered around the theme
"Bound Together: Clothed in Christ"
based on Colossians 3:12-15. It will be a week full of worship, growth, hiking, serving, recreation, learning and so much more – all put together into a time that will change their lives!
Please be in player for them as they prepare for this trip and for those who are planning this fabulous event.