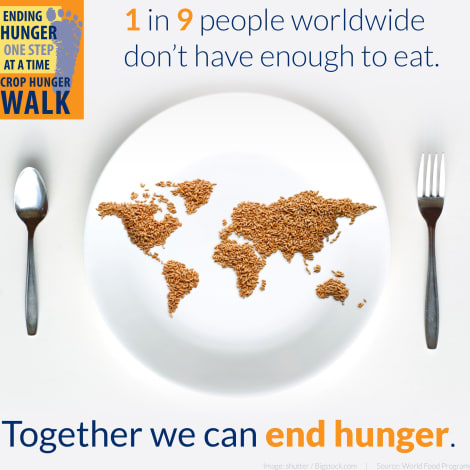 CROP Walk November 13
After the close of World War II, an immediate focus of the Church of the Brethren was
caring for those whose homes had turned into battlefields. It had quickly become apparent
that particularly in Germany, as well as in other European and Asian countries (especially
Japan), infrastructure had suffered such damage that these countries were not able to feed
their own people. Infant mortality rates skyrocketed. Mortality rates in the elderly jumped
40% in Germany. Both of these were attributed to high levels of starvation.
The Church of the Brethren responded by working with other US churches to start CROP,
the Christian Rural Overseas Program. John Metzler Sr., Material Aid Director for the
Church of the Brethren, served as the first executive coordinator for the program. In
1947, about fifty train cars of flour were collected to send to Europe. As the train moved
across the country, additional train cars were added, filled with grain, dried fruit, wheat,
peanuts, and other supplies from local communities. Additional "Friendship" trains were
organized, and soon millions of dollars of supplies were being sent abroad every year. The
spirit of generosity was so widespread that it is impossible for the total amount of
contributions to be calculated. Handling costs, pier charges, even tariffs were waved to
help this food reach those in need. (Donald Durnbaugh. Fruit of the Vine, 490.)
CROP has changed over the years, as logistics have changed, and as more has been
learned about the importance of supporting local economies while aiding recovery. But its
spirit still continues in CROP Hunger Walks which take place across the country, raising
money and awareness about issues of hunger across the world.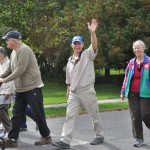 Your Funds continue to help feed those recovering from both natural and man-made disasters, and also support local nutrition efforts in our own communities. I personally have participated in CROP walks in Ohio, Maryland, and Virginia, and have always found them to be a wonderful experience of being together with people who care for others, as well as a good way to help those in need.
We will be hosting a CROP Hunger Walk starting in our church parking lot on November
13, at 1:00PM. Churches around our community are planning to join us, as we walk a 3.1
mile (about one hour) walk on a route between our church and the airport. Local funds
will go to support the Verona Food Pantry.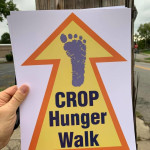 To preregister for the walk, and set up a page to collect donations online (for an example you can see my page at https://events.crophungerwalk.org/2021/daniel-house-2), you can visit https://events.crophungerwalk.org/2021/event/weyerscaveva. You can also simply bring donations with you on the day of the walk. Please make checks out to CWS.